At Mosshollow Hill, everything starts with an idea or a need. We research the process, implement the plan ourselves, enjoy the successes, and learn from the failures. Through this process we raise food to limit what we purchase from a store, and our animals provide weed abatement, entertainment for each other, ourselves, and our guests, and fiber used in our textile arts. We value hard work, creativity, experimentation, and resilience. Come learn, create, and explore with us.
Meet the Proprietors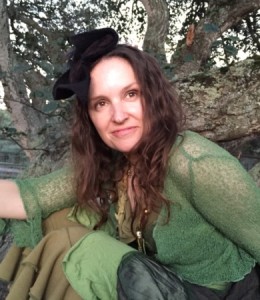 Susan Shirley
Susan Shirley grew up reading books about magical places and dreamed of living in the woods amid family and furry creatures. Mosshollow Hill is her dream realized, and she enjoys sharing her adventures with family and friends. As a full-time public school teacher, Susan encourages her students to explore the world in a kind and responsible way and loves sharing the Maker world with them. As a fiber artist, she creates a world of handmade felted magic inspired by nature and literature and thrives on learning new techniques. Living and playing on Mosshollow Hill allows her to combine her two passions: creating and teaching. She enjoys the distractions the chickens, sheep, goats, dog, and cats provide and loves sharing her world with Brett and Sidney. She hopes Mosshollow Hill inspires visitors to live their dreams.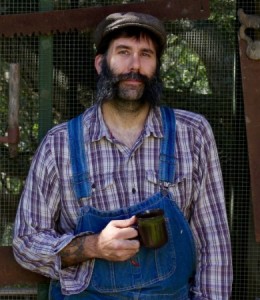 Brett McCleary
Brett McCleary is the Keeper of Tools and Grounds at Mosshollow Hill. He divides his time between teaching history, building the structures on the property, and caring for the orchard, garden, and animals. In his free time, he enjoys photographing wildlife and landscapes in his quest to see a mountain lion. When a need arises on the farm, Brett researches, plans, and implements the solution. His creations blend practicality and aesthetics making Mosshollow Hill a beautiful and functional place to live.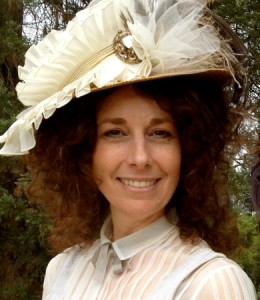 Sidney Rice
Sidney Rice, along with her rescued cats, and reclaimed treasures, was invited to live on Mosshollow Hill the summer of 2014. With an eye for design aesthetics, and a passion for animal welfare and plant-based living, Sidney was a perfect fit. As a design consultant, Sidney works alongside Brett and Susan, helping to create a sense of continuity on the property, and enjoys getting her hands dirty whenever needed. As an animal rescuer and custodian, "Auntie Sidney" is thrilled to realize a dream by helping to care for the various fantastical beasts who roam Mosshollow Hill's beautiful woods. Sidney's Wormwood Cats have become a part of the delightful cast of furry characters and couldn't be more happy climbing trees, sleeping in the sun, and chasing things that run really fast…some not fast enough.
Sidney took up residence in the guest cottage and turned it into a showcase house for her small business, House of Wormwood. Busily creating hand-crafted, vegan Washwares for the Renaissance Faires, The Great Dickens Christmas Faire, and various markets in the area, it was actually Sidney's Mudlarkian Millinery that caught the eye of Susan at a Harry Potter Convention in San Francisco the summer of 2008. Shortly after discovering a shared passion for Harry Potter and all things Tolkien, the two started to collaborate on wearable art, creating Wormwood & Mosshollow, a fibre-art and assemblage collection of couture chapeauette hats.
Meet the Animals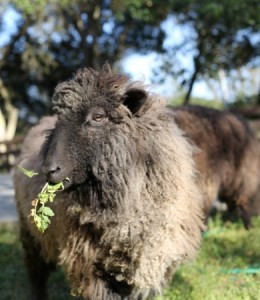 Sheep Sheep!
Mosshollow's wooly ladies are Wensleydale/Romney crosses and gloriously curly. Just before a shearing, they resemble wooly bears. Momma Klaus, the matriarch, enjoys quietly observing her surroundings from a distance unless she senses you have treats for her. Then she's at your side instantly. Her daughter, Daisy loves attention and is as affectionate as her mother is elusive. Momma Molly came to Mosshollow a bit more stand-offish, but she has since learned to appreciate a good scratching and loves nibbling treats when offered to her. Molly's daughter, Dottie, seems part mountain goat. Given a chance, Dottie would scale any structure to get a tasty treat and enjoys a good scratch just like her mother.
The ladies enjoy wandering the Mosshollow grounds in search of greenery to munch helping to maintain the weeds and grasses naturally. Brett built a skirting table and mobile wash station for Susan to use during fleece washing and fiber preparation. The wash station enables her to use the dirty water on the trees, bushes, and flowers. Once clean, the fleece is ready for dyeing or fiber art!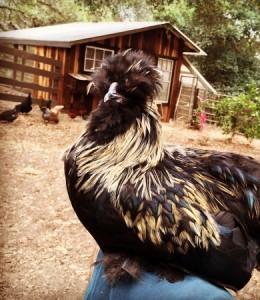 Chickens
Mosshollow's chickens came to The Hill at 3 different times. The Literary Crew moved from Morgan Hill to Mosshollow with Brett, Susan, and their cats in July 2014. Each lady was named for a famous book character: Mrs. Snodgrass, Katniss, Morgaine, Lyra, Jane, and Bellatrix. They're a tough group of hens and have gladly made Mosshollow their new home. Each lady's unique personality emerged early on-hence their names. As they ease into egg-tirement, the Literary Crew continues to amuse and delight visitors.
In April of 2015 the next generation of eggers arrived in Mosshollow and were promptly named the Westerosi Crew after the Song of Ice and Fire series. They began laying over the summer, and, like the Literary Crew, enjoy their tasty organic feed as well as free-ranging for insects and worms around the grounds. Some of the ladies enjoy sitting on laps for lots of love while others are more elusive.
June of 2015 brought the World of Froud to Mosshollow. 3 Silkies: Aughra, Jareth, and Fizzgig were integrated into the flock, and it's been a wild adventure ever since. One cannot help but giggle when the silkies come waddling across the yard. Jareth, the Goblin King, is our resident rooster and a glorious little fellow though a bit afraid of his own shadow and the bigger ladies.
In February of 2019 we added a new variety of little peepers including Copper Marans so now we have beautiful dark brown eggs.
A visit to Mosshollow always includes a photo-shoot with the chickens, just watch out for road apples!
Cats
Mosshollow plays host to a variety of both indoor and outdoor rescued cats. Visitors often find the furry critters lurking in trees, prowling the garden, observing the chickens, peering through windows, and chasing lizards. Each cat was either rescued or adopted and have made Mosshollow Hill their loving home.
Our resident felines pictured here, The Lady Eboshi all tufted and tabby, and enolA our elusive house panther fill our home with delightful purring and fuzzy mischief.
The House of Wormwood's Catterie
Sidney's commitment to providing a sanctuary for her fur family resulted in her creation of The Cattery-a cozy, habitat for her outside fellas. The House of Wormwood provides medical care, a safe home, and a loving environment for Sidney's feline friends.
Goats!
In September of 2018 we adopted two Nigerian Dwarf wethers and promptly named them Snackly Bellington and Scrappy Duncan after getting to know them. They prance about participating in extreme goating activities and generally delight all who see them.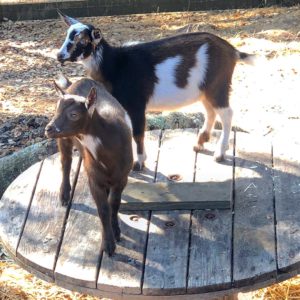 Ein Starker Lowe Sierra McCleary-Shirley Von Bautzen
the Leonberger
After nearly 20 years of waiting, studying, researching, and looking for the right breed, we finally found what we had been dreaming of all these years. A Leonberger! Bred to look like the lion on the town crest in Leonberg, Germany, the Leonberger dog is bred from Newfoundland, Saint Bernard, and Great Pyrenees. Our beloved Sierra has captivated our hearts and lives, and we can't imagine our farm without her.